Why Are You Here?   
In this series about CalMHSA staff, we offer a profile of our colleagues and why they've chosen to contribute to the work we do.  
Meet Bethany Dominik, Lead Epidemiologist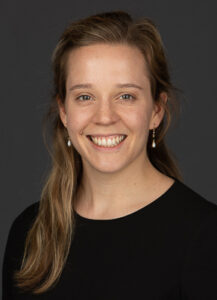 "A guiding light for all of my work is to tell the story of behavioral health using data," says Bethany Dominik, CalMHSA's lead epidemiologist. 
 Bethany has worked at CalMHSA for about a year-and-a-half, during which she has been a key contributor to the managed care team but has participated on projects across the organization: calculating measures for BHQIP performance projects; creating Power BI dashboards for CalAIM and EHR learning management system trainings; developing dashboards for SmartCare to make sense of counties' data in the electronic health record system; and additional projects supporting health equity in behavioral health delivery, to name a few. 
"My job is to use data to tell the story of things that matter to directors or to clients, and then share those stores in ways that are visually meaningful, and that make sense and show impact," Bethany said. "I very much value feedback from counties in refining the story – hearing what matters to them and collaborating." 
Bethany holds a master's degree in public health with an emphasis in maternal and child health epidemiology. Previously, she worked for the Marin County Health and Human Services Department on initiatives that crossed over into behavioral health, such as evaluating how medications for opioid use disorder were being prescribed in the county's jail. When the pandemic took center stage, she transitioned to working mostly on the county's COVID response, eventually standing up a public facing COVID data dashboard. 
"Something I saw during the pandemic that led to me joining CalMHSA was the benefit of collaborating with epidemiologists in counties across California to address some of the common challenges we experienced developing COVID data tracking and reporting systems," she said. "It's very satisfying that my work now supports counties by analyzing data and helping to lift the burden of each county having to do it on their own." 
Bethany began her career in data analytics working for a software company but realized she was missing the social impact component that is important to her. She then completed a fellowship program working on homelessness issues in Chicago, which gave her a new perspective on the many complex reasons that individuals become unhoused — and she decided to pursue a career in public health.   
"I learned that I want to work in a space where I can have a direct impact on people's lives," she said. "At CalMHSA, every day I get to work with data around issues that I really care about." 
Bethany speaks enthusiastically about her work for counties throughout the state as giving her a unique lens on the world for understanding both the systemic and individual experiences with health or lack thereof.   
"Bethany is an innovative thinker who brings a great mix of technical skill, curiosity and creativity to her work," said Dawn Kaiser, CalMHSA's senior director for managed care operations. "She also has a deep commitment to the well-being of the individuals counties care for."  
When she's not creatively telling the story of behavioral health issues with data, Bethany finds time to connect with herself through nature. She is an avid hiker, rock climber, and outdoor enthusiast who, in 2021, summited Mt. Ranier. 
October 24, 2023