County Staff Gather in Sacramento to Collaborate, Learn About EHR
Key staff: John Fitzgerald, Chief Informatics Officer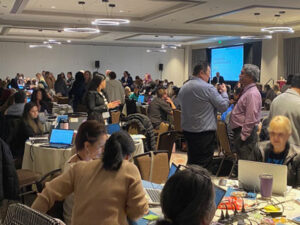 Nearly 300 staff from 24 counties joined CalMHSA for an in-person electronic health record (EHR) training in Sacramento Nov. 14-15.
"It's really exciting to be able to brainstorm and collaborate in person with people from other counties," said Danielle Murray, Mono County staff services analyst. "It's great to be around people from all parts of the state and share ideas, and I'm happy to be able to take home information to start working on some things within our county."
Day 1 of the event featured future visioning of the EHR; using AI to optimize clinical workflow; interoperability compliance; a brainstorming lab; a high-level review of managed care; and a HEDIS measurement review.
"We're currently at 1.8 million services entered into the EHR," Executive Director Amie Miller told the audience. "We're on track for $1.2 billion in billing to be entered for the year. We have a true north, and we're moving fearlessly in the direction we need to go."
Day 2 focused on breakout sessions designed for system/admin. reporting, clinical, and billing users. Topics included workflow reviews, deep dives into key topics, brainstorming labs, cross-county collaboration, and more.
November 20, 2023